So...I'm giving in and contributing to the Valentine's Day sappiness. But I do insist on contributing artfully-- with some of my favorite love poems. Hope you enjoy them as much as I do.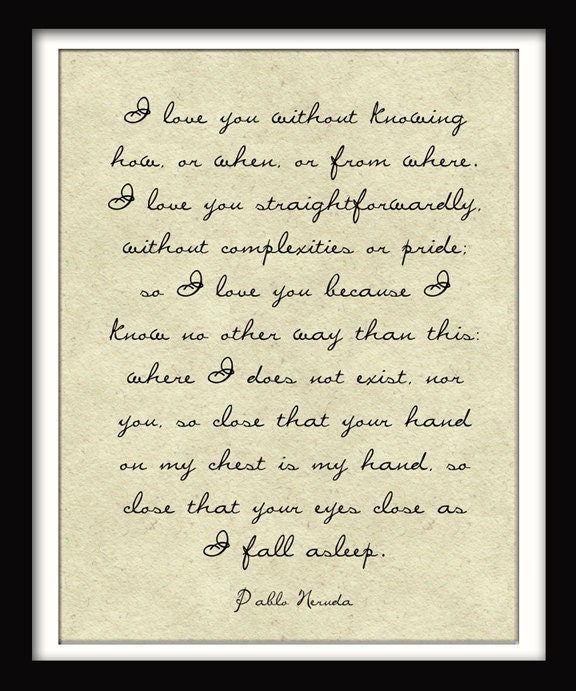 Typography art from TheBestCaseScenario



No te amo como si fueras rosa de sal, topacio
o flecha de claveles que propagan el fuego:
te amo como se aman ciertas cosas oscuras,
secretamente, entre la sombra y el alma.

Te amo como la planta que no florece y lleva
dentro de sí, escondida, la luz de aquellas flores,
y gracias a tu amor vive oscuro en mi cuerpo
el apretado aroma que ascendió de la tierra.

Te amo sin saber cómo, ni cuándo, ni de dónde,
te amo directamente sin problemas ni orgullo:
así te amo porque no sé amar de otra manera,

sino así de este modo en que no soy ni eres,
tan cerca que tu mano sobre mi pecho es mía,
tan cerca que se cierran tus ojos con mi sueño.



XVII (

(I do not love you...)




I do not love you as if you were salt-rose, or topaz,




or the arrow of carnations the fire shoots off.




I love you as certain dark things are to be loved,




in secret, between the shadow and the soul.





I love you as the plant that never blooms




but carries in itself the light of hidden flowers;




thanks to your love a certain solid fragrance,




risen from the earth, lives darkly in my body.





I love you without knowing how, or when, or from where.




I love you straightforwardly, without complexities or pride;




so I love you because I know no other way





than this: where I does not exist, nor you,




so close that your hand on my chest is my hand,




so close that your eyes close as I fall asleep.





Translated by Stephen Tapscott






Я вас любил: любовь еще, быть может
В душе моей угасла не совсем;
Но пусть она вас больше не тревожит;
Я не хочу печалить вас ничем.
Я вас любил безмолвно, безнадежно,
То робостью, то ревностью томим;
Я вас любил так искренно, так нежно,
Как дай вам бог любимой быть другим.
I Loved You...

A.S. Pushkin




I loved you once: perhaps that love has yet
To die down thoroughly within my soul;
But let it not dismay you any longer;
I have no wish to cause you any sorrow.
I loved you wordlessly, without a hope,
By shyness tortured, or by jealousy.
I loved you with such tenderness and candor
And pray God grants you to be loved that way again

 
Three untitled poems from e. e. cummings:

              

 

i carry your heart with me(i carry it in
my heart)i am never without it(anywhere
i go you go,my dear; and whatever is done
by only me is your doing,my darling)
                                   i fear
no fate(for you are my fate,my sweet)i want
no world(for beautiful you are my world,my true)
and it's you are whatever a moon has always meant
and whatever a sun will always sing is you

here is the deepest secret nobody knows
(here is the root of the root and the bud of the bud
and the sky of the sky of a tree called life;which grows
higher than the soul can hope or mind can hide)
and this is the wonder that's keeping the stars apart
i carry your heart(i carry it in my heart)
i have found what you are like
the rain

        (Who feathers frightened fields
with the superior dust-of-sleep. wields

easily the pale club of the wind
and swirled justly souls of flower strike

the air in utterable coolness

deeds of gren thrilling light
                                       with thinned
newfragile yellows

                          lurch and press
--in the woods
                       which
                                  stutter
                                           and
                                                 sing
And the coolness of your smile is
stirringofbirds between my arms;but
i should rather than anything
have(almost when hugeness will shut
quietly)almost,
                      your kiss 
                              
Can't find original source...if you can, please let me know!
i like my body when it is with your
body.  It is so quite new a thing.
Muscles better and nerves more.
i like your body.  i like what it does,
i like its hows.  i like to feel the spine
of your body and its bones, and the trembling
-firm-smooth ness and which i will
again and again and again
kiss,  i like kissing this and that of you,
i like, slowly stroking the, shocking fuzz
of your electric fur, and what-is-it comes
over parting flesh ... And eyes big love-crumbs,

and possibly i like the thrill

 
of under me you so quite new